This memorial has been built to recognize the response of our state each time our nation needed warriors...To honor each generation that served us at home and to memorialize those who left home to meet the enemy at such a distance that those at home were protected.
This memorial was built to recognize the continuity of sacrifice between generations and to provide space for names from each succeeding generation to appear together on the same wall as members of the same brotherhood, as brothers and sisters of the same family.
This memorial was built so that we might see the common cause of each generation, the heritage of valor, the honor in sacrifice, and the imperative of individual duty.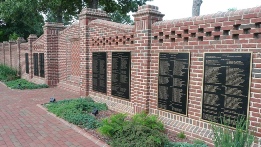 Built solely from contributions, the Memorial Pavilion is located in Broadway Park. A beautiful example of Classical architecture, large, tapered, round columns grace each corner of the brick octagonal base, which spans twenty-four feet in diameter. Above the Doric columns are graceful arches and heavy crown molding, accentuating the design. An elegant, vented clerestory highlights the copper roof. The pavilion floor is constructed with brick pavers laid in a pattern to complement the octagonal foundation. Walkways are laid using brick pavers and memorial bricks. A courtyard with a grassy lawn is enclosed by a brick wall.